Public records show Abrams & Lafargue on track to make more than $1M in public funds
---
SHREVEPORT, La. — The City of Shreveport has hired outside attorneys Reginald Abrams and Julie Lafargue of the local firm Abrams & Lafargue to represent it against Sand Beach Properties, LLC following the recent water under-billing scandal.
Abrams & Lafargue have a long list of clients, and also represent the Caddo Parish School Board in addition to a few other public bodies and institutions.
Although Mayor Ollie Tyler is the custodian of public records, the City has charged Abrams & Lafargue with the responsibility of producing responsive documents to our public records requests. Requests have also gone through the office of City Attorney William Bradford.
(On Nov. 27, Will Broyles of RealShreveport.com reported the City Attorney's office has a payroll of $1 million for a staff of 18, 10 of whom are full-time attorneys. Read the article, complete with exclusive information and analysis here.)
Real Shreveport sent public records requests for invoices sent by Abrams & Lafargue to each of their public clients when the law firm, on behalf of the City, did not comply with public records law in mid-October.
Data sets from hundreds of pages of invoices for both the Caddo Parish School Board (CPSB) and the City of Shreveport for the past two calendar years are available below. Invoices were given through September of this year.
The two graphics below show the total amount paid to Abrams & Lafargue by both the City of Shreveport and CPSB for 2015 and 2016. The combined total is just under $1 million for 2015 and 2016.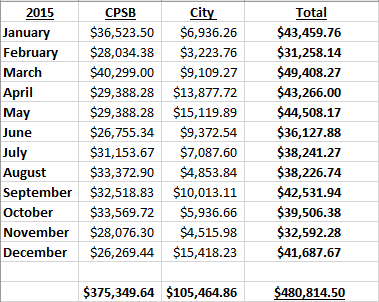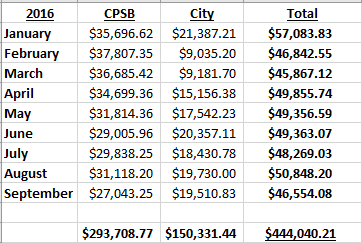 The CPSB paid more than $2,500 to Abrams & Lafargue in 2015 and 2016 combined for the handling of public records requests, as demonstrated below.


Abrams & Lafargue charges the CPSB a flat rate of $14,800 each month with an hourly rate of $185, based on the documents provided.
Caddo Parish School Board member Susannah Poljak, who is also an attorney in Shreveport, did not respond to an email asking for her thoughts on the amounts being paid to Abrams & Lafargue, or whether she thought it was a good practice to continue.
More data analysis will be made available as this story develops.
---
Available invoices are linked below.
–CPSB: 2015 invoices, CPSB: 2016 invoices
–City: Jan. 2015, City: Feb. & Mar. 2015, City: Apr. 2015, City: May 2015, City: June 2015, City: July 2015, City: Aug. 2015, City: Sept. 2015, City: Oct. 2015, City: Nov. & Dec. 2015
–City: Jan. & Feb. 2016, City: Mar. 2016, City: Apr. 2016, City: May 2016, City: June 2016, City: July 2016, City: Aug. 2016, City: Sept. 2016