Grey area in legal representation of public bodies
---
SHREVEPORT, La. — The legality of private attorneys handling public records has been called into question following the City of Shreveport's water under-billing scandal.
A local law firm, Abrams & Lafargue, was hired as outside counsel to represent the City in its ongoing litigation against Sand Beach Properties, LLC, the company of Scott Pernici and Michael Wainwright, who claim to have discovered the billing error.
Our audit of Abrams & Lafargue began when City Attorney William Bradford handed off the responsibility of producing all responsive documents to the law firm. It is our belief they did not comply with Louisiana public records law during this process.
Many of our readers have questioned whether a private law firm should handle such sensitive documents, which in theory, could grant them access to a number of other records. They also question why the City Attorney's office, which employs 10 full-time attorneys and has a payroll of $1 million (read more on that here), is not handling these documents.
Public records requests were sent to all public clients for invoices from the law firm for the last two calendar years. The Division of Administration, on behalf of the Department of Risk Management, reported no responsive documents for the request. Responsive documents from GSU and the DOTD are still due.
A thorough analysis of the 133 pages of invoices provided from the CPSB and more than 540 pages from the City of Shreveport has shown Abrams & Lafargue are well on their way to making more than $1 million in public funds for 2015 and 2016 combined. That projection is based on invoices made public through September of this year.
More on that story here.
Read the most recent article in this series for extensive data analysis of those documents, including travel costs, the number of redacted items and the firm's effective rate for the school board.
However busy Abrams & Lafargue may be representing both the Caddo Parish School Board (CPSB) and the City of Shreveport, they manage to represent three other public bodies in addition to many private clients.
Additionally, the firm represents Grambling State University, the State of Louisiana Department of Transportation and Development (DOTD) and the State of Louisiana Department of Risk Management, all of which are publicly funded. 
We found the number of hours worked each month for the CPSB and the City of Shreveport combined. The graphic below shows the hours worked by Reginald Abrams and Julie Lafargue in 2015 and 2016. Hours worked by legal assistants are not included.
2015

2016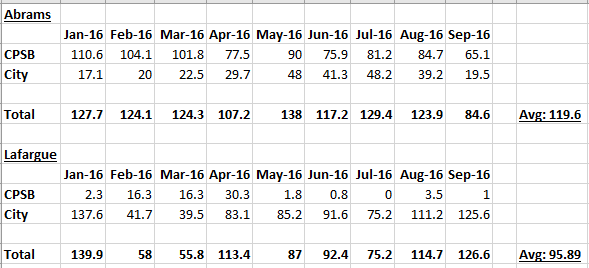 The firm charges the CPSB a monthly flat rate of $14,800 and an hourly fee of $185. They charge the City of Shreveport $125 hourly.
Some instances of superfluous charging are possible, as evidenced in the invoices.
The legality of the law firm's handling of public records is still being researched.
---
All invoices are linked below:
–City: Jan. 2015, City: Feb. & Mar. 2015, City: Apr. 2015, City: May 2015, City: June 2015, City: July 2015, City: Aug. 2015, City: Sept. 2015, City: Oct. 2015, City: Nov. & Dec. 2015
–City: Jan. & Feb. 2016, City: Mar. 2016, City: Apr. 2016, City: May 2016, City: June 2016, City: July 2016, City: Aug. 2016, City: Sept. 2016