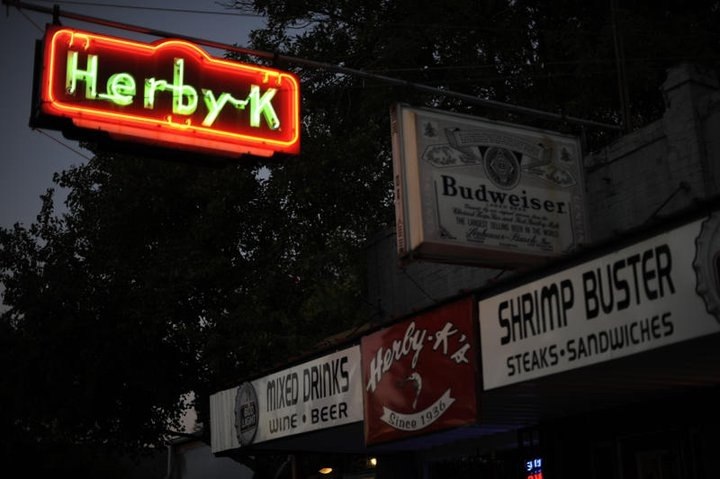 Herby K's
Description
History of Herby K's
---
At the turn of the century, the "West End" was a growing neighborhood full of life and energy. There was a railroad roundhouse nearby that brought a lot of hungry and thirsty workers to the area. Herby-K's was right there on Pierre Avenue, but at that time it was called the Flying Crow.
The Flying Crow (named after a train engine) began as a place to get package liquor, tobacco, and an occasional sandwich. An old picture on the wall of the restaurant shows Herby K himself behind the counter, and a handwritten menu offering sandwiches for $0.15!
In 1936, Herbert J. Busi, Jr. turned the family owned business into a restaurant bearing the nickname he picked up while attending LSU in Baton Rouge and Herby-K's was born. In 1945, he introduced the Shrimp Buster and the secret Shrimp Buster sauce to the menu. Herby K was known for his larger than life personality, sense of humor, knowledge of cards and expert marksmanship. What else do you need to run a restaurant?!?!
He married Marian Bass (known as Mrs. Herby) and they ran the business together for many years. Mrs. Herby was known for keeping employees and customers in line. If you were crazy enough to try and sneak a beer mug out of there, you were in for it the next time she saw you. Fast forward to the present. Herby-K's has stayed in the family and is now run by Janet Bean and her daughter and son-in-law, Angela and David Doe. 2011 marked our 75th birthday – who only knows what the next 75 years will hold!
Hours
Monday thru Thursday 11am-9pm
Friday and Saturday 11am-10pm
Closed Sunday
318-424-2724
Address
1833 Pierre Ave.
Shreveport, LA 71103